Keynote Topics For Your Organization
Fostering Growth and Change - with Contagious Enthusiasm!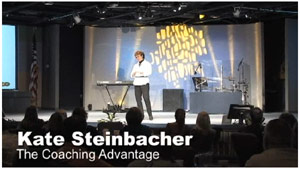 Click the image above to sample Kate's speaking.
Kate Steinbacher brings enthusiasm and insight to your business group as she advocates for partnership, collaboration, taking action and building on ones strengths and experiences to create a life and career that is fun, flexible, energizing, contributory and financially rewarding. Her insights have helped clients realize gains in all areas of their personal and business worlds, including organization, accountability, focus, communication skills, self-development and bottom line financial success.
Kate believes that strength, vulnerability, loving, caring, pain, joy and most importantly, a sense of humor is what makes life worth living. She brings an enthusiasm for fun, growth and change to each presentation that is contagious!
Speech Topics
Procrastination: A Tool for Life
Procrastination isn't all bad. In this talk Kate discusses ways to make creative procrastination actually work in your favor.
Pack Like a Pro: Traveling to Europe for 7- 10 days in a roll aboard.
Kate not only discusses this possibility but demonstrates the actuality with a sense of fun and real life examples.
Don't Get Left Behind! Embracing Change and Growth.
Today we must move faster or at the Speed of Change. Change can be the catalyst for growth both in business and life. This talk takes a look at how people view change and how their perspective can make all the difference. A great companion speech with the book: Who Moved My Cheese by Spencer Johnson.
Jump Start Now! Five Practices to Set Your Sights and HIT Your Target!
Millions of corporate and personal objectives are set each new quarter: only to be missed by the quarters end. The POSITIVE fact to be reckoned with is, that among the millions of missed objectives are also millions signed, sealed and delivered with great success! How do successful people and companies do that? Kate walks you through the journey with fun and enthusiasm. This can also be conducted as an interactive workshop.
Women in Business: Achieving Excellence.
In this story of a woman entrepreneur, Kate discusses the challenges and successes of women in business.
So You Want to Start a Business?
Real life stories that tell a tale of business ownership through humor and angst and ask powerful questions, including: is it for you?

Other topics available include: Teamwork, Leadership and Communications. Kate is also available to act as facilitator or MC for your program. Contact Kate today to learn more about her availability.